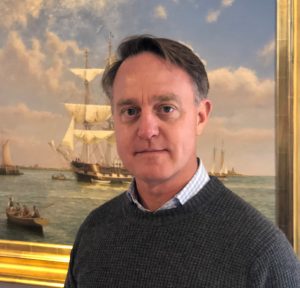 Jay Maroney is an Associate attorney with the firm. Jay is the fourth generation of his family to summer or live on the island. He graduated from Hampshire College in Amherst Massachusetts, has a Master of Arts in National Security Studies from Georgetown University, and went to law school at the George Washington University School of Law.
After law school, Jay first practiced contract law with the US Navy. He then served as counsel to the Senate Homeland Security and Governmental Affairs Committee, on the staff of Senator Edward M. Kennedy, and on the Senate Armed Services Committee, focusing on defense related matters, as well government contracting, acquisition policy, business transformation, financial management, information technology, and military construction. Jay recently completed multiple deployments as an intelligence officer with Navy SEAL Team 3 and the Naval Special Warfare Development Group for which he received two Joint Service Commendation Medals and a Navy and Marine Corps Commendation Medal. Jay remains an active member of the United States Navy Reserves with the rank of Lieutenant.
He moved to Nantucket full-time in 2018. At the firm, he focuses on real estate matters, permitting, contracts, leases, and small business matters. In his spare time, he is an avid runner and aspiring sailor.
Please e-mail Jay with any questions or to say hello at Jay@cohenlegal.net.